Quick CPU for Windows is a utility tool for PC devices created by CoderBag. This program functions as a CPU monitor, allowing users to fine-tune their processors for improved performance and efficiency. They can use it to check temperatures and core clocks and adjust frequency to their liking.
Quick CPU (previously recognized as Core Parking Manager v3) is a small application designed to fine-tune and track CPU performance, power, and voltage settings such as Speed Shift, Frequency Scaling, FIVR Control, C-States, Core Parking, and Turbo Boost among other things. All of the information about how it works, how to interpret application data and settings, and how to make these changes is provided below. To save energy, disable CPU cores.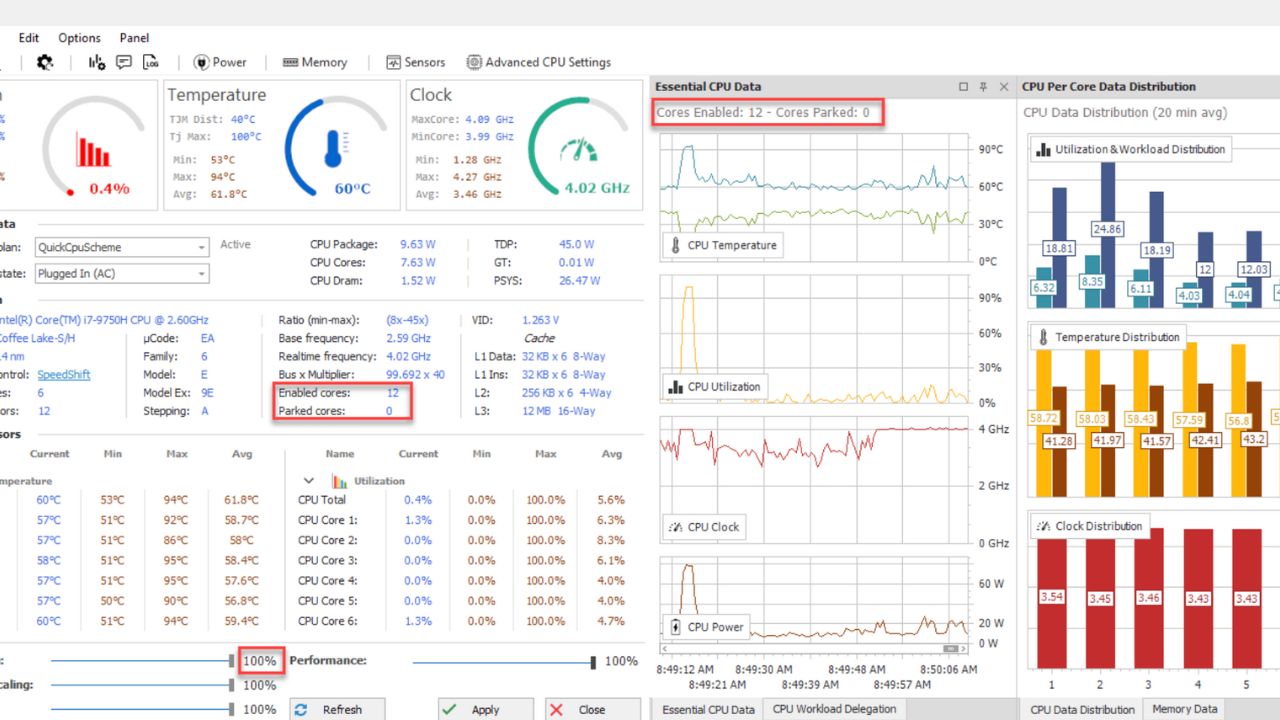 Quick CPU, like Intel Extreme Tuning Utility and AMD Ryzen Master, provides tools and options for optimizing CPU performance through an intuitive user interface. It supports a wide range of processors, from desktops to laptops. Quick CPU download for Windows can be accessed easily from the net.
How to operate Quick CPU for Windows?
When you first launch Quick CPU, it displays a wealth of detailed and comprehensive information about your CPU. Power Data displays the current power plan you're using. CPU Data provides information about the CPU's make and model, whereas CPU Performance provides information about the Base and Boost frequencies. Refer to the CPU Temperature and CPU Utilization sections for information on temperatures and how much power is being used.
A series of tabs at the top allow you to monitor and configure various settings. Power offers a variety of power management options and settings, making it ideal for laptops. Memory provides an overview of your RAM consumption as well as which programs use the most memory. Sensors are excellent for tracking individual CPU core temperatures.
Then there's Advanced CPU Settings, where you can change your clock frequencies and other settings. Finally, the Logs tab displays real-time monitoring of your CPU at predefined intervals. Before running this program, keep in mind that it is intended for advanced and experienced users. If you are not cautious when making changes and adjustments to your processor, you may experience instability or even a crash.
A proficient CPU monitoring and tuning utility
Quick CPU is a tool that can assist you if you like to tweak your CPU to get the most performance out of it. It contains a surprising amount of detail and information about your processor from which you can learn. If you want to experiment with frequencies and power limits, it has a plethora of tweaking and adjustment options. Quick CPU free download is available on the internet if you are interested.