Mem Reduct for Windows becomes a useful application or software for all Windows users. This application is created to help people who have a low RAM amount which makes their work slower. In another word, the application will clean unused and unimportant memory.
The ability to clean the memory will give a bigger space to provide better regular task performance. Simple to download and use, it can be the best app for many Windows users to install on their PCs.
Advantages of Mem Reduct
Mem Reduct requires little system resources, so it will not need a large memory. All people with low RAM can get the app without hesitation.
With a small size of the app, it will not impact the functions of the PC. Otherwise, it will not make another app slower. On the other hand, Mem Reduct can help the PC to work faster.
Besides being fast and reliable, this app can be set to run automatically at a certain time. The users do not need to open the app many times when they want to clean the memory.
To get the automatic cleaning, the users only need to click the icon of Mem Reduct and choose the available options. The options are Clean Every, Clean Areas, and Clean when Above. The users can select the option depending on their needs.
Screenshots and Features of Mem Reduct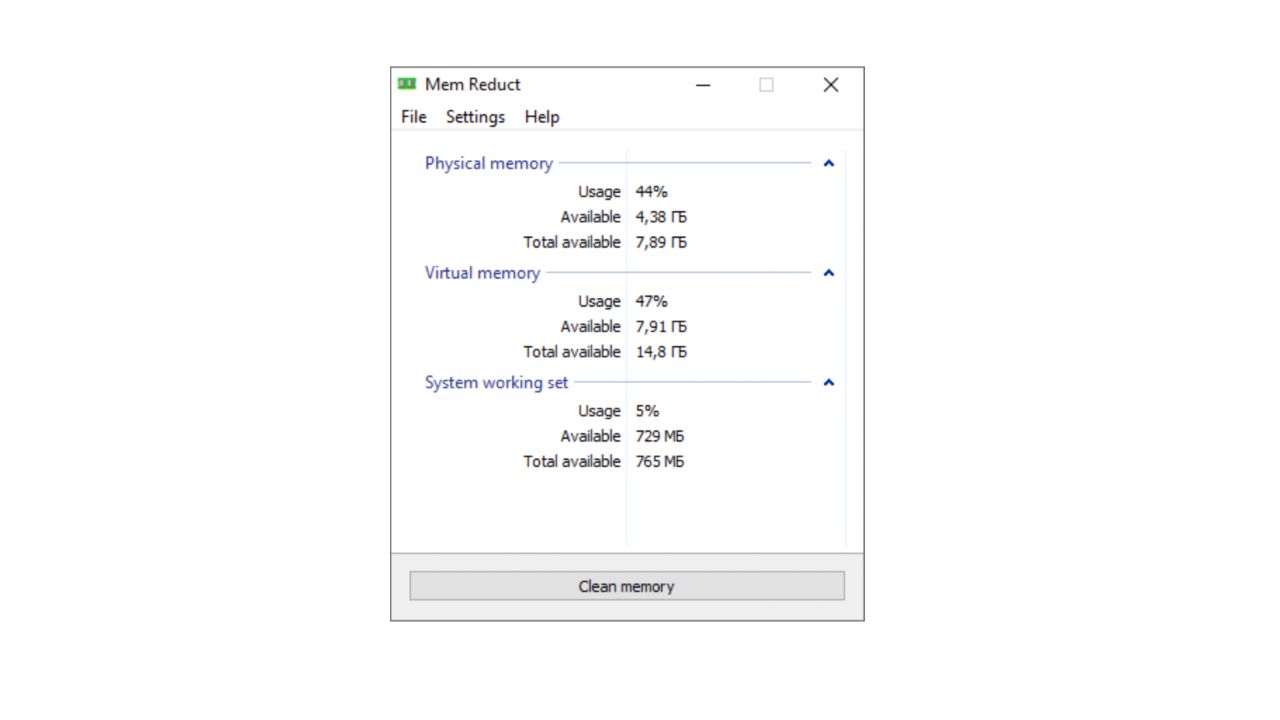 After installing the Mem Reduct download for Windows, the users can get a showcase of available memory. It is separated into three sections that are Physical Memory, Virtual Memory, and System Working Set.
Physical Memory is the RAM of the PC, while Virtual Memory is the local storage memory. The Working Set will represent the combination of both Physical and Virtual Memory.
How Mem Reduct will work is it removes unnecessary entries in RAM, so it leaves the currently active app and the necessary data only.
Mem Reduct Download
The application of Mem Reduct is free, so the users do not require to pay for any packages. That is why all Windows users could use the application as they want to.
Also, it is provided on a modern version for various Windows versions such as Windows 7 to Windows 10. Whatever Windows is at home, the Mem Reduct application will help to clean unused memory.
In addition, about the platform architecture, Mem Reduct free download is available for 32-bit and 64-bit. Thus, there is no excuse for Windows users not to install this useful app.