Windows 11 Manager for Windows is indeed an all-in-one software for Microsoft Windows 11 that consists over forty different tools to optimize, tweak, speed up, clean up, and fix your Windows 11 such as Advanced System Care (ASC) or CCleaner. It tends to help the system to perform rapidly, eliminate system errors, increase security and stability, customize the copy of Windows 11, as well as meet all of the expectations.
Features of Windows 11 Manager
Information
Cleaner
Optimizer
Network
Security
Customization
Misc. Utilities
Information Feature
The Windows 11 Manager download allows you to manually build a system restore point. Provides thorough information on the system and hardware, as well as assistance in locating the Microsoft license keys for Microsoft Windows or Microsoft Office. It displays and handles all active processes including threads and the Repair Center assists in the diagnosis and repair of different system faults. Cleans up the system with a single click; The Optimization Wizard is beneficial to novice computer users.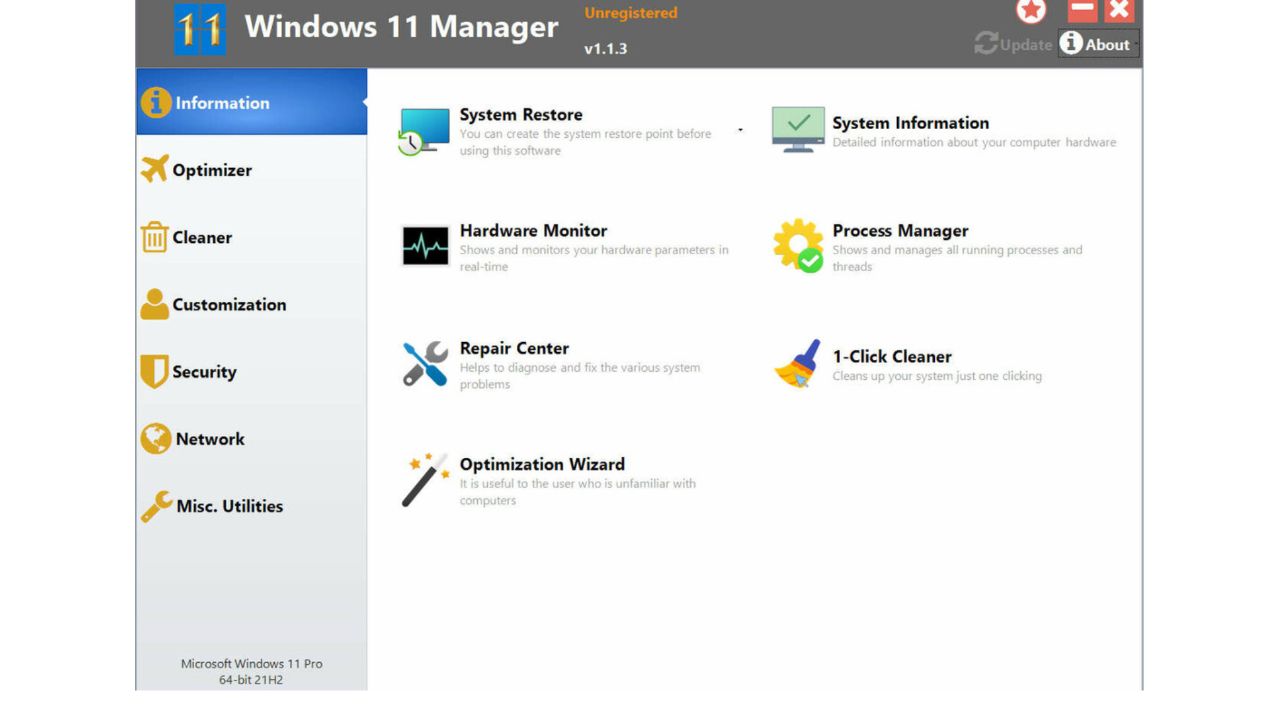 Cleaner Feature
Cleaner Disk Analyzer will analyze and inspect the disk space utilization of all applications, files, and folders to determine which consume your storage space and display the results in a chart.
Smart Uninstaller can completely remove apps from your system while leaving no remnant files or Registry entries.
Desktop Cleaner can evaluate and relocate unnecessary desktop files, shortcuts, and folders to predefined places.
Searches and deletes unwanted files in order to conserve disk space and increase performance and also to save storage space.
Registry Cleaner scans the registry for invalid objects and deletes them.
Registry Defrag re – establishes and re-indexes the Registry to minimize registry load times and hence enhance application responsiveness, as well as to eradicate registry errors and corruption.
Optimizer Feature
Adjusts your system to boost speed and performance.
Manages and configures your Windows boot menu.
Startup Manager manages all applications that start after Windows boot, and it examines and restores advanced startup apps to restore dangerous changes caused by viruses.
To increase performance, manages & optimizes system utilities including drivers.
Manages and optimizes scheduled tasks to assist your system run faster.
Network: Improves and fine-tunes your internet access and network settings.
Security: System, component, and UAC tweaks Sign in settings, changes different settings, and limits access to storage and applications to increase system security. It also protects your important data and folders, encrypts files, and moves system folders to secure locations.
Customization: Adjusts system characteristics to your liking by modifying the File Explorer, Start, Desktop, Taskbar, and Notification area.
And still many other features in Windows 11 Manager. Windows 11 Manager free download and free to use for your Windows 11.