Keeping a computer system clean and secure is an important thing to do nowadays with the online habit in everything. Regardless of the way and purpose of a computer for a person, a clean and secure system will be a good one to use. IObit offers Advanced SystemCare Free 14 for everyone to deal with that matter in everyone's computer.
It means that this program is a perfect mix of system utilities and security tools for any computer. Packed with decent features, this program will help to boost and clean the system of any computer just by clicking a button. It does all that very cleverly that the result is highly recognizable.
The Windows system indeed has all sorts of things to clean a system and secure it as well. Unfortunately, the one provided by Windows is not that thorough and easy to use. It is impossible to optimize the system by cleaning it and securing it in just a button using Windows provided tools.
The general idea of this application is to optimize the startup of the system at first. It is done by detecting unimportant software and application that are also started when the system is booted to start. The result of this is a quicker startup system due to fewer applications started at the same time.
More importantly, Advanced SystemCare Free 14 can clean the system thoroughly but very carefully. It means that there will not be any accidental deletion of files that are needed by either the system or the users of the system. Those two features will already speed up any system, Also : Smart Defrag
Cleaning temporary files and application cache is also the thing that this software can do. Broken shortcuts will also be fixed as well as cleaning errors in the registry section of the system. All in all, with just one click of a mouse the whole system will be cleaned and optimized for a better level of performance.
Here are some screenshots and features of Advanced SystemCare
Select Scan : Advanced SystemCare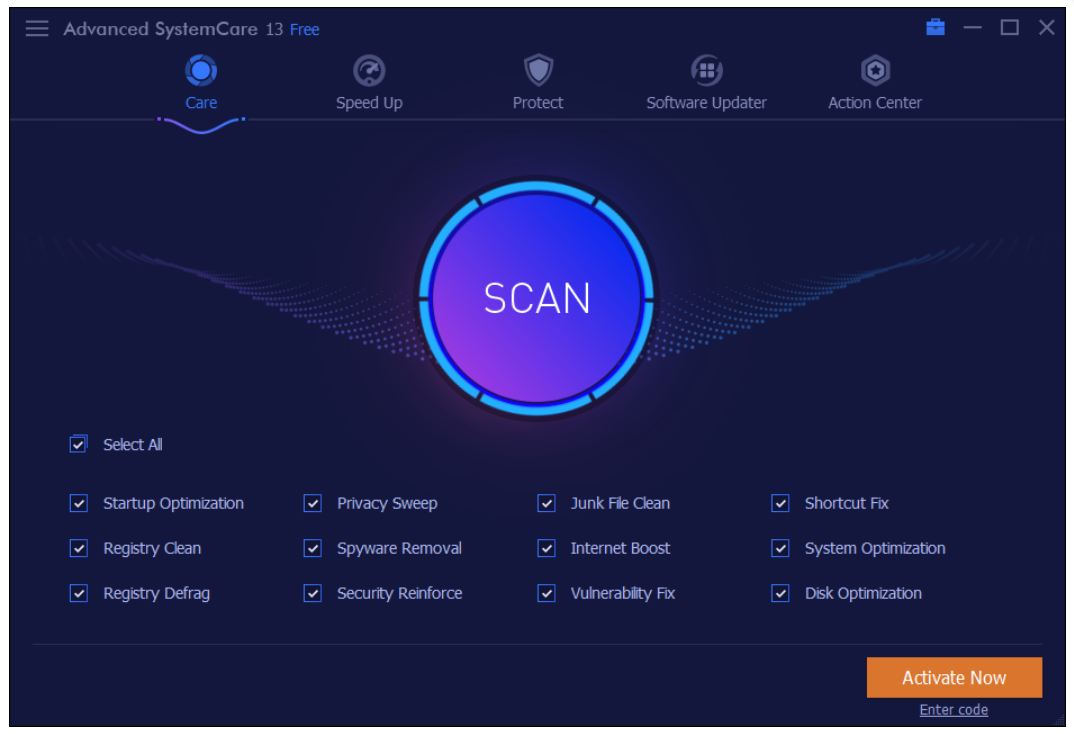 Scanning : Advanced SystemCare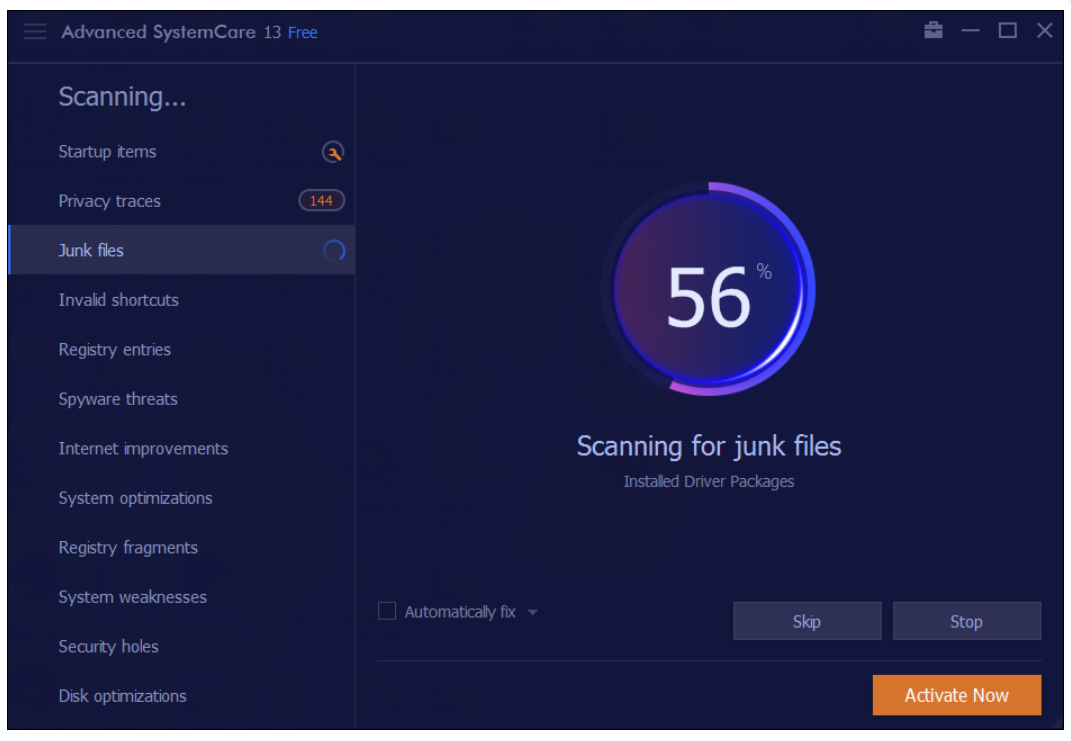 Summary : Advanced SystemCare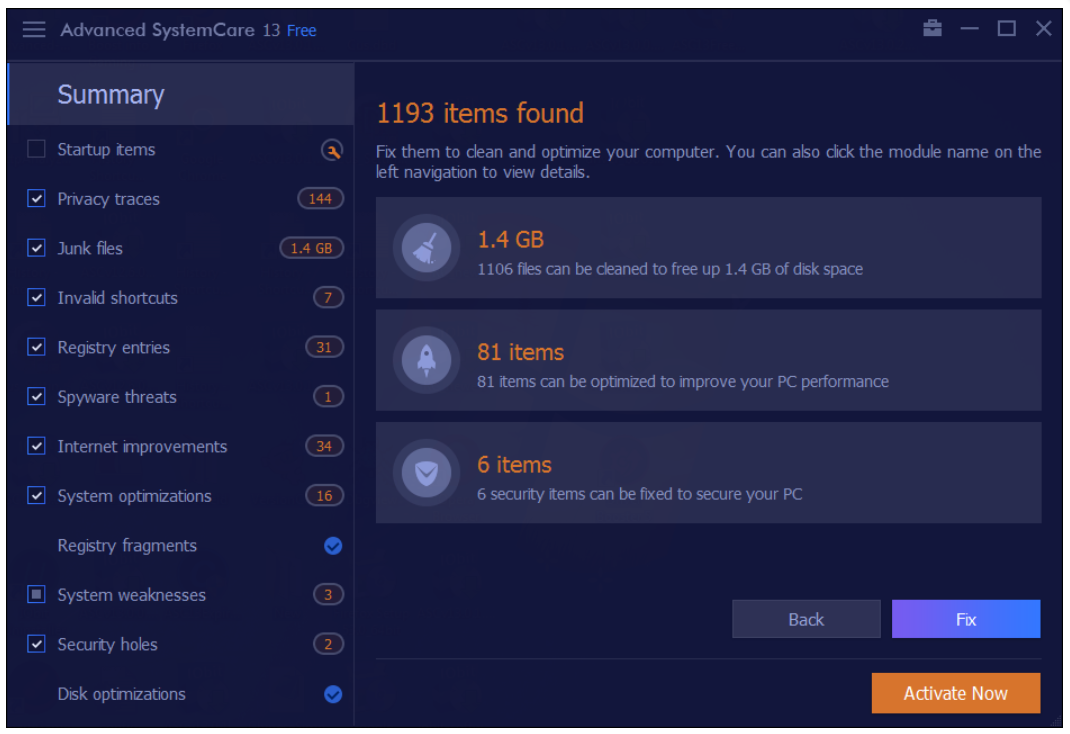 Summary:Fix completed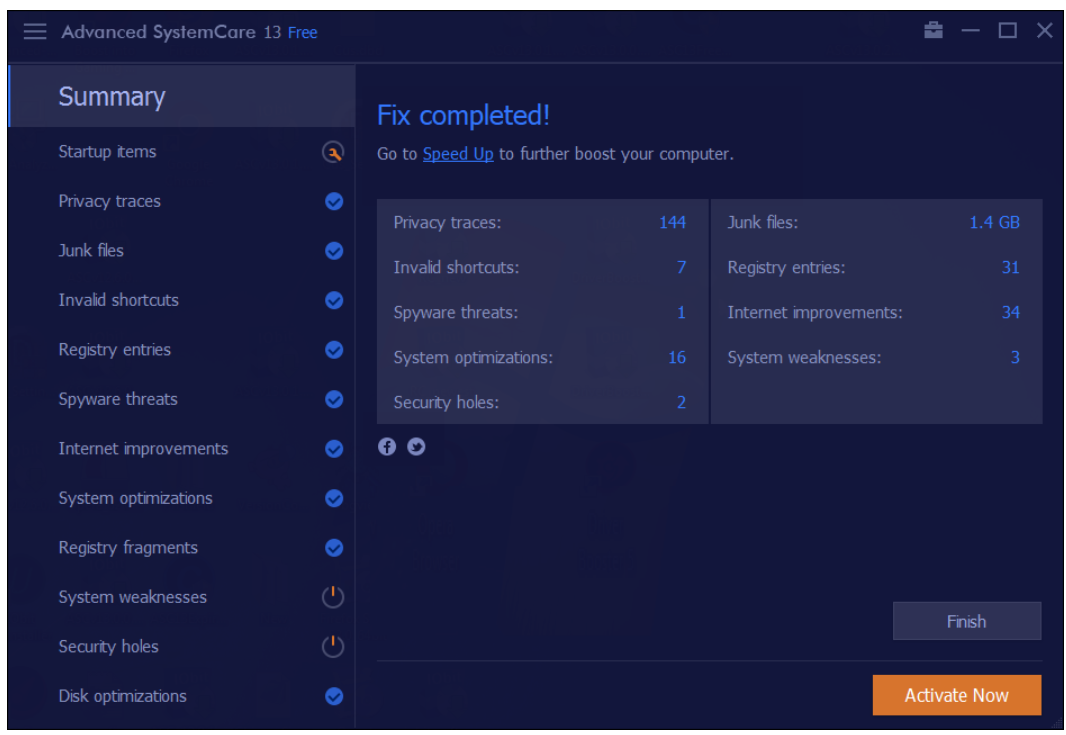 In terms of the security aspect, this application will be able to scan vulnerabilities and weaknesses within the entire system. Once those things are found, the application will provide the options to deal with them properly. It leads to a safer system from any possible security breach and threat.
Video : How to speed up your Windows computer and protect your online privacy with Advanced SystemCare?
It comes as a free application with the option to go pro with the paid version. Even just the free version will already be very helpful. The pro or paid version of Advanced SystemCare Free 4 comes with even more features, especially for advanced users.