AOMEI Partition Assistant Latest Version Download for PC Windows 10/8/7/XP/Vista | AOMEI Partition Assistant Standard is FREE disk partition management software. With this tool you can flexibly manage computer disk space for "Create Partition", "Merge Partition", "Delete Partition", "Format Partition", "Copy Partition", and other disk partition management. This tool is very well known by many users all over the world because of its many powerful features that allow you to fully control your hard disks and partitions.
You may experience the problem of low disk space or the partition size is too large, with the "Resize Partition" feature this tool to solve the problem and allows you to increase the partition size to solve the problem of low disk space, or shrink the partition size to the partition size. makes more sense.
Here are some screenshots and Features of AOMEI Partition Assistant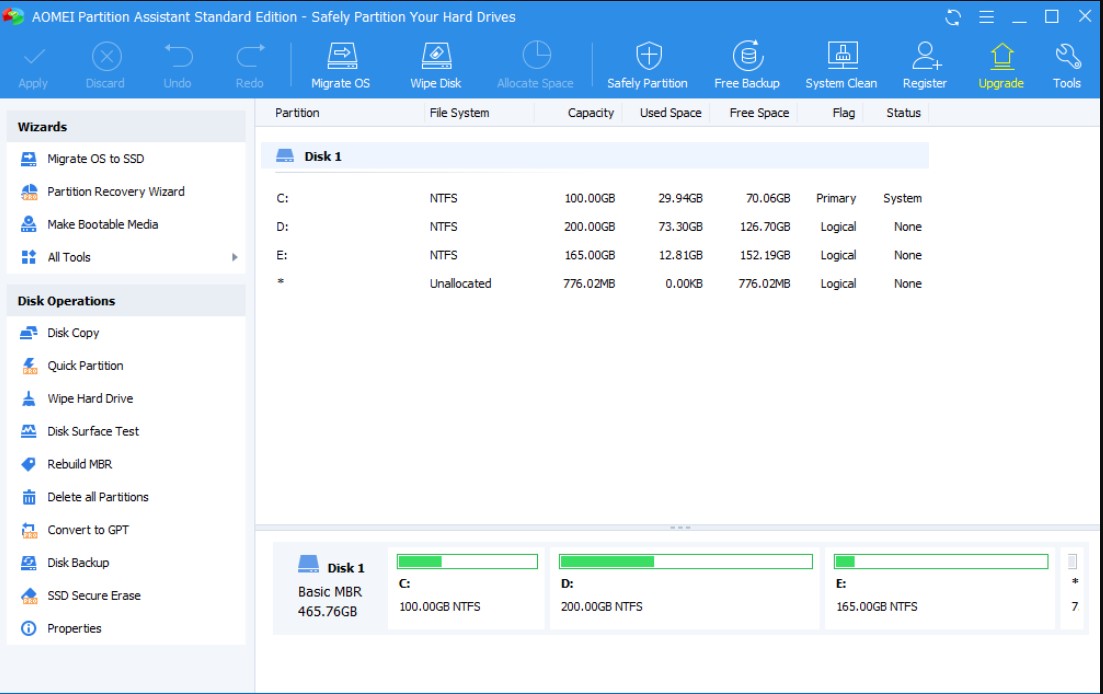 AOMEI Partition Assistant for Widnwos
The following features AOMEI Partition Assistant Standard:
Basic Partition Management
Change Partition Size
System Data Migration
Convert Disk and Partition
Make Bootable Media
Disk Partition Utilities
Supported Operating Systems and
Home Use
The Softonline team tried the features of this tool but some of the professional features you have to buy a license to get more complete features, such as "Allocate Free Space from One Partition to Another" is only for the AOMEI Partition Assistant Professional version, more complete below:
Allocate Free Space from One Partition to Another
Migrate OS from GPT Disk to GPT/MBR SSD or HDD
Migrate OS from MBR Disk to GPT SSD or HDD
Convert System/Boot Disk between MBR and GPT Styles
Convert Dynamic Disk to Basic Disk without Data Loss
Convert Partition between Primary and Logical
Partition Alignment
Quick Partition
Command Line Partitioning
Partition Recovery Wizard
SSD Secure Erase Wizard
Extend Partition Wizard
Wipe System Disk
Change Serial Number
Business Use
What New ?
For the new features of Version 8.10 release September 14, 2020 fixed some bugs such as at startup of this tool:
Fixed some bugs that affected startup.
Optimized "Toolbar": only list commonly used tools so that it become more clean.
This software has complete features as described above if for business needs, we recommend using the professional version by purchasing an official license, if interested you can buy from the button below:
Supported Operating Systems : Windows 10, Windows 8.1/8, Windows 7, Windows Vista, Windows XP, Windows 2000 Pro SP4
Safely Partition Your Hard Drive: AOMEI Partition Assistant