Good sound technology is needed for an awesome gaming experience on a PC or laptop. This is what Nahimic for Windows will do for you. This audio software is specially designed to produce impressive sounds when you are playing your favorite games on Windows. It provides the finest 3D sound technology that all keen gamers will love.
Why Nahimic?
Nahimic can produce incredible gaming sound since it puts each of your game's sounds in a surgical position. Not only that but the audio software can also provide you with a multichannel stereo device experience. In this way, the sound produced is not only immersive but also shocking in fun ways.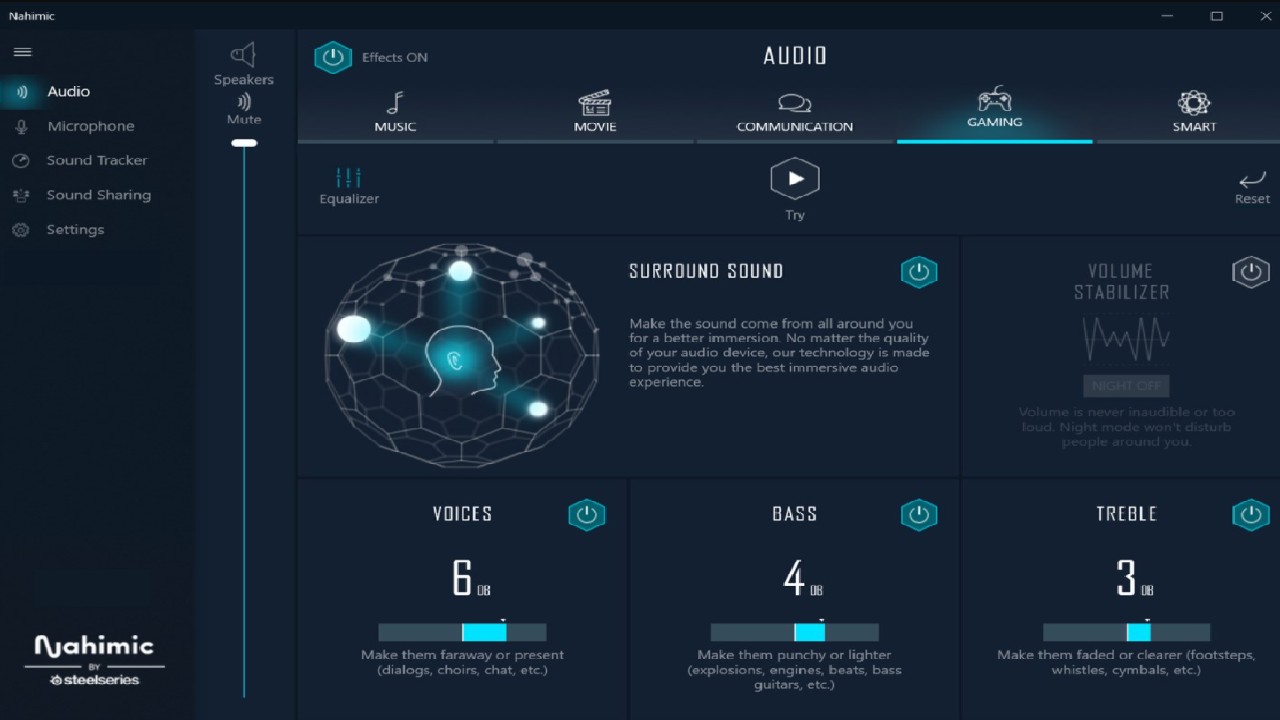 One of the best things about Nahimic download for Windows is that the software is compatible with a wide range of devices. You can use it along with a headset, headphones, internal speakers, and external speakers. You can also use it via analog output, Wi-Fi, USB, or HDMI to enjoy vibrant sounds with rich details.
Engaging with your gaming partners is also easy. You can also keep communicating with your mates constantly and comfortably. This is possible to happen thanks to the improvement conducted in some axes such as Static Noise Suppression and Voice Stabilizer.
Highlighted Features
To allow you to enjoy a great experience in PC gaming with impressive sounds, Nahimic for Windows is loaded with the following features.
Surrounded Sound
The sound field of Nahimic that expands in 3 different dimensions makes the immersion in the game you play on PC great. This is because the software will provide you with a resonance that comes from the side, middle, and front.
Great Compatibility
You can enjoy the high-quality and vibrant sound of your favorite games with Nahimic. No matter what audio devices you use, the audio software will be compatible with it. The Nahimic driver will make sure that you can enjoy the best sound with the audio device you preferred the most.
Sound Tracker
This feature is a visual indicator that shows where the predominant sounds come from. The sound tracker of Nahimic uniquely places each sound of your game at 3600 on a radar. In this way, enjoying a full immersion while gaming is possible.
Volume and Voice Stabilizer
This Nahimic free download will also provide you with a constant volume, thanks to the volume stabilizer feature added. It allows you to adjust the volume automatically and make it steady.
Meanwhile, the voice stabilizer added to the software enables it to optimize communication. In this way, you can engage with your teammate effectively when playing games in groups.|