SUMo Software Update Monitor is a product of KC Softwares, which is the authors of Startup Sentinel. It is a tool that is helpful in keeping your PC up-to-date. It works by suggesting you the latest versions of the applications you have installed on your PC.
This tool is primarily functioned to keep your devices updated so that you will be able to enjoy and use new and helpful features.
How to Download SUMo?
You can download SUMo on the internet. You can also opt for purchasing SUMo Pro that has more features than the free version. For example, it has the ability for automatic self-update and direct update of the software it monitors.
For your information, SUMo is also able to be integrated with other programs of KC Softwares, such as DUMo. DUMo is a tool that takes care of updating hardware drivers.
SUMo Review
SUMo is one of the greatest applications for those who want to always keep their installed apps updated all the time. This tool is even recommended by so many experts. It keeps you updated so that you will be able to enjoy the latest features of the apps you have installed in your devices.
Moreover, SUMo also shows the list of applications that need to be updated. As you know, it is important to update your apps for better stability and performance. If you have not updated your apps for a long time, SUMo can provide you with some links that you can use to update your apps, Also CCleaner for PC Windows
The Features SUMo for Windows
The essential feature of SUMo is the automatic detection. With such a feature, the software can help you to see the apps that need to be quickly updated. So, you will be able to have the latest version of the apps you installed. It also has access to software websites for easier updates.
Besides keeping you updated with your installed apps, SUMo also removes unnecessary updates. You can use the remove or ignore button to avoid updates that you do not want to see. Moreover, the interface featured is easy and user-friendly.
You can easily and simply check all information on the main panel. You will be able to find every piece on the dashboard, whether it is the update version or the name of the company. The app also features filter data versions. This way, you can save time and allow you to get only the final updates.
Here are some screenshots and features of SUMo for Windows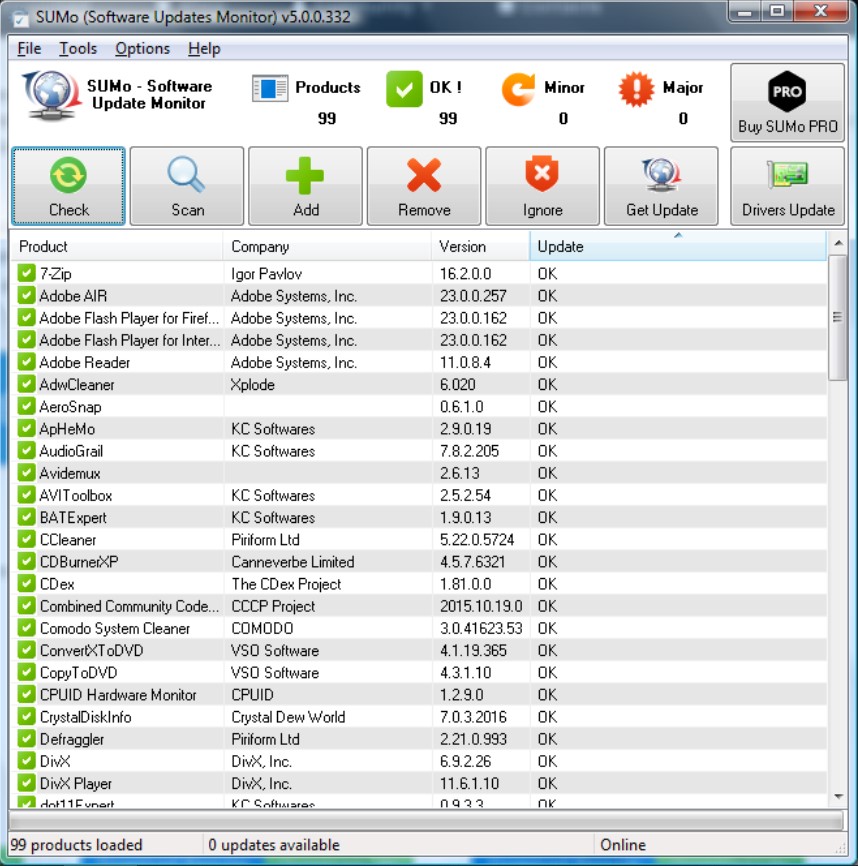 Features :
Automatic detection of installed software
Detects required updates / patchs for your software
Detects required drivers update
Filter / authorize Beta versions (user setting)
Automatic self-update (PRO only)
Direct access to software developer's web site (PRO only)
Ignore list : only tracks software YOU want to track
More compatibility and less false positive than others Update Monitors (according to
users feedback 😉
Internationalization support
User-friendly interface