Is your CPU getting slower recently? Do you urgently need to optimize your CPU performance? If so, Process Lasso can be a great solution for your problem. Process Lasso for Windows is a real-time, free CPU automation and optimization software for Windows PCs.
Process Lasso for Windows
It delivers demonstrable, proven, and safe improvements to PC responsiveness during high CPU loads. This software is a great process priority optimizer for your computer. Thanks to its popularity, you can easily find Process Lasso free download on the internet.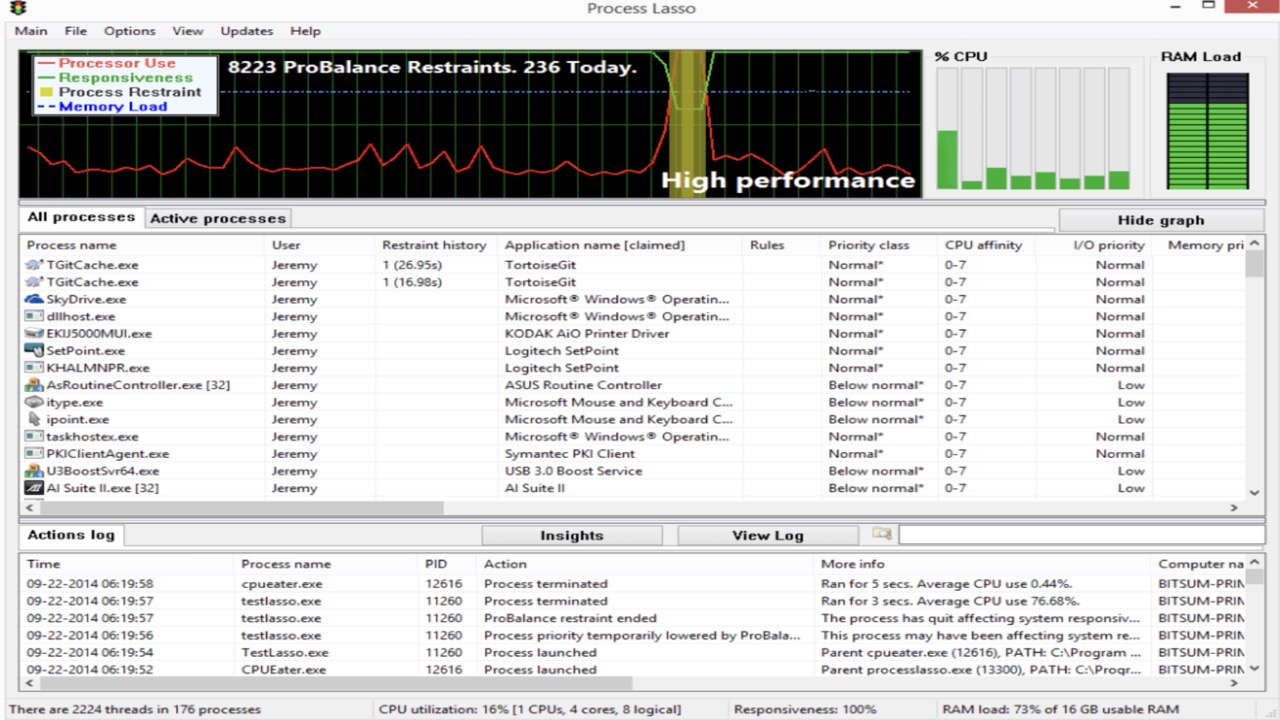 Windows, by design, makes it possible for programs to monopolize your CPU. This condition can lead to micro-lags, hangs, freezing, delays, and even crashing to your mouse or keystroke actions. And Process Lasso download for Windows is not like a task manager to handle this issue.
Instead, the software serves as an advanced process priority optimization and system automation tool for Windows desktops. Process Lasso offers automated rules, power plan automation, CPU core affinity optimization, process priority optimization, and many others.
It has a well-known feature named ProBalance, which is the abbreviation of Process Balance. This feature is a unique process optimization technology. With such a feature, you will be able to improve your PC stability and responsiveness.
The feature does so by making smart dynamic adjustments to the priority class or CPU affinity of problematic background processes. This Process Balance feature will smartly adjust process priorities and CPU affinities to positively affect any Windows PC responsiveness.
Features and Highlights of Process Lasso
Process Lasso has these following features and highlights:
It works amazingly for computers, laptops, and netbooks.
ProBalance dynamic priority optimization.
Prevents PCs from sleeping for designated processes.
It uses extremely low resources.
Disallowed processes.
Instance count limits.
Stand-alone process management engine that uses only 1MB of RAM.
Event logging.
It differentiates between svchost.exe instances.
Unique system responsiveness graphics.
It keeps processes running.
Why You Should Choose Process Lasso
Process Lasso is compatible with Windows XP to Windows 10.
Multiple languages are available, allowing you to understand every guide and instruction in your mother language.
It is totally easy to use, even for those without any knowledge of technical things. Do not forget to choose the right date format.
The ProBalance feature is extremely effective since it improves the performance of your system effectively.
The exe package is clean since there is no other ad like toolbars.
It includes some beneficial documents and guides.