There are two test suites available once you download PerformanceTest for Windows. Two of them are Standard Test Suite and Advanced Test Suite. Standard Test Suites allows you to test your PC's CPU, 2D graphic, 3D graphic, Disk, and memory.
PerformanceTest is a PC performance test software released by PassMark. This software will allow you to run an in-depth test of your PC performance. This software allows you to compare your PC performance test result with other user-submitted test results. All of which is downloadable via a cloud-based service.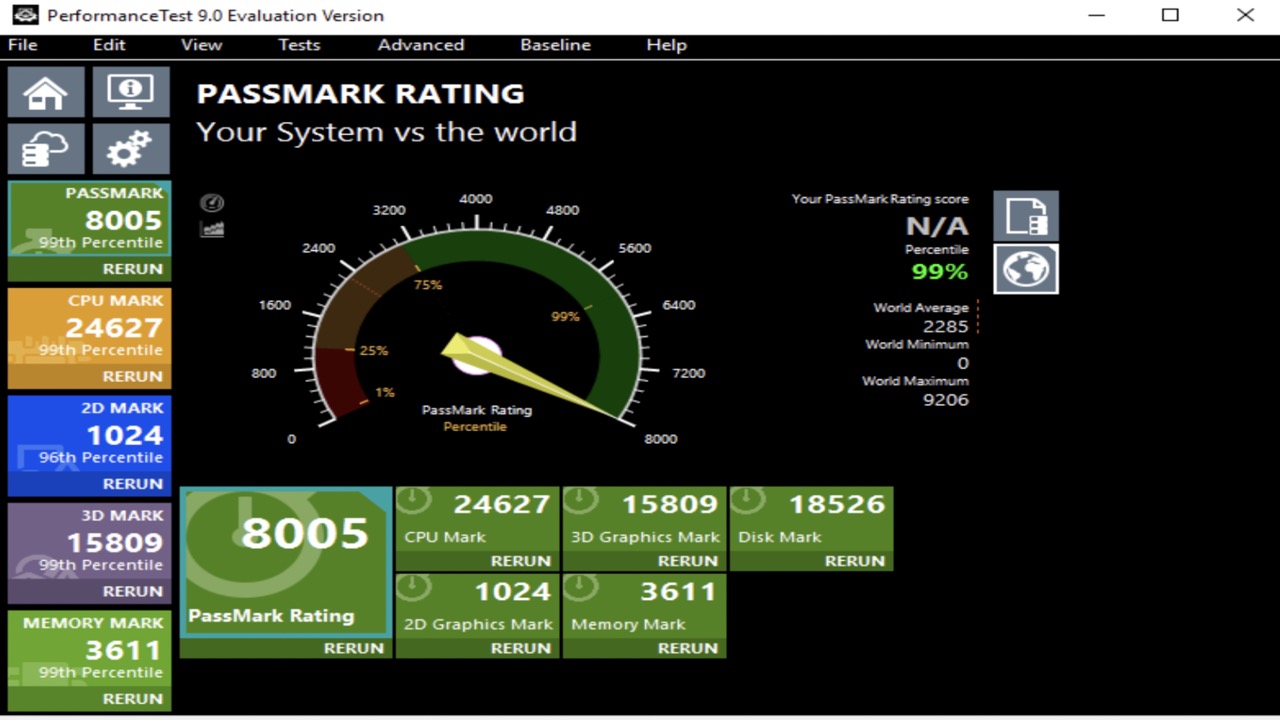 PerformanceTest download for Windows can be downloaded as a free trial. However, you will be given the option to buy the full version of this software. The full version comes with more complex features that are suitable for the advanced user.The full version includes:
Advanced Disk Testing
This feature will measure the PC's transfer speed on multiple disks through highly adjustable testing parameters. This particular test is compatible with various Windows-related drives.
Advanced CPU Benchmark Test
This Windows performance test allows you to run individual CPU tests from a single to specified number of threads. This feature allows you to run individual CPU tests such as Integer Math, Prime Numbers, Compression, and Sorting.
Advanced 3D Graphics Test
This test will measure how well your PC's 3D video card handles 3D graphic display. Utilizing Microsoft's DirectX, you will be able to set the complexity of the tested 3D display. Similar to 3D Mark for Windows, the test depends on the DirectX version that you use.
Advanced Networking Test
This Windows performance test is used to measure the data transfer rate between two computers by utilizing a TCP/IP connection. In addition to that, you can adjust the parameters of the test. This includes the size of the data, test duration, network protocol, and IP address.
Advanced Memory Test
Advanced memory test allows you to measure the speed of your RAM utilizing two test models (Linear sequential access or Non-sequential access).
Advanced Visualized Physics
This test allows you to see a visual representation of your PC during testing. This feature lets you customize each test to your desired result.
Advanced GPU Compute
This feature will test the GPU ability through a series of computing tests. Four tests can be selected accordingly. Four of them are Bitonic Sort Test, Fluid Test, Julia Test, and Mandelbrot Test.
All of those advanced test features are highly adjustable to your desired test parameter. Adjust accordingly with your PC specification and software. So, get the PerformanceTest free download now to see whether your PC is performing at its best.|