UC Browser Turbo is a minimalist version of this powerful browser with which you can access any webpage in an easy way. It supplies all the important elements for browsing the Internet without anything that slows down page loading.
UC Browser Turbo APK
UC Browser Turbo brings you fast video download, mini ads block, data saver, free cloud acceleration(powerful as VPN), share files to whatsapp, easy to search, private & safe browsing, video playing in background, watch cricket matches offline, pesonalized wall picture HD, multi-language and homepage customizable to optimize your using experience.
With UC Browser Turbo (APK) you can surf rapidly and also safely over your Android device. Plus the app has several advertisement blockers and also the common incognito mode so as not to leave any traces of the websites you visit.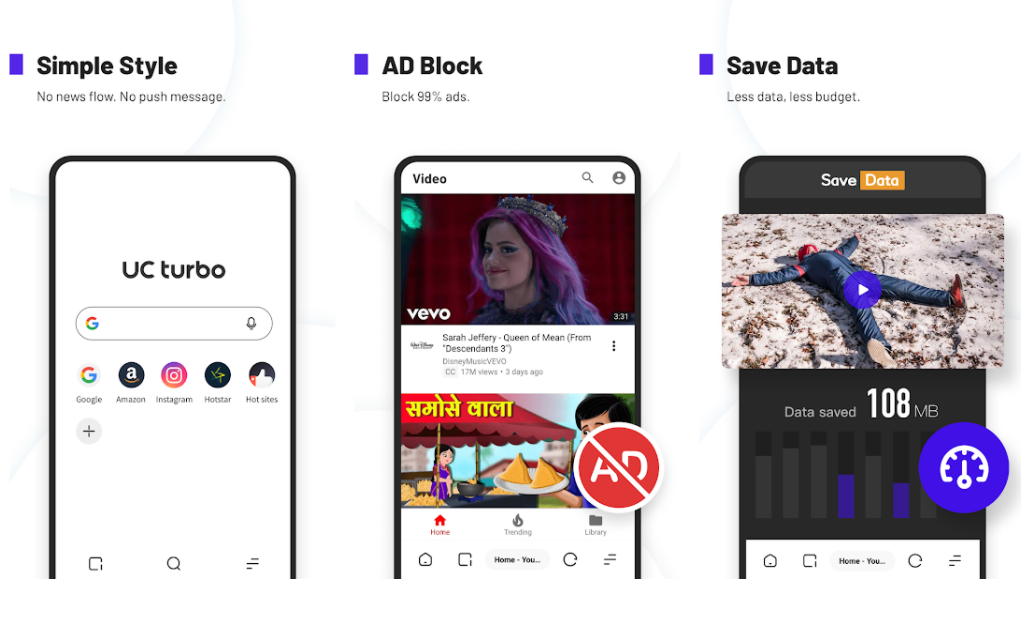 Features of UC Browser Turbo
Minimalist Design
No news flow, no push message, simple but smart design brings you clean and convenient browsing experience.
Fast Video Download
Our servers speed up and stabilize downloads. By setting high download threads, your download speed may enhance a lot.
Free Cloud Acceleration
Free cloud acceleration help you visit websites and watch videos around the world anytime at anywhere.
Private Space
Users enable to hide downloaded online videos or files and encrypt with password, creating a privately-owned space.
Data Saving
UC Browser Turbo helps you use less mobile data to control your data budget. Whether you're downloading or browsing, UC Turbo always saves 90% data.
Useful Tools Kit
With a series of tools like status downloader, network speed test, image search, you just need to open UC Turbo to own them.
Switch Tab on Toolbar
It is a special feature which can save your time and give you smooth browsing. Just move your finger on toolbar, tabs can be switched quickly. Open and Delete options are added now!
Secure Browsing
Incognito mode helps you to browse in private. Your browsing history will not be recorded in this mode.
and More..