With the rapid improvements of GPU, PCs are now able to deliver highly-realistic 3D rendering. This is especially true in PC games, where photo-real 3D scenes can be rendered in real-time. If you're a 3D animator, you may wonder whether this technology can be applied to animation works. Well, you don't have to wonder anymore as you can now use iClone for Windows.
What is iClone for Windows
iClone is a 3D animation software developed by Reallusion. Unlike other 3D animation programs like Blender or Autodesk Maya, you don't have to wait for an excruciatingly long time to look at the final frame of your 3D render. With iClone, everything can be seen in real-time.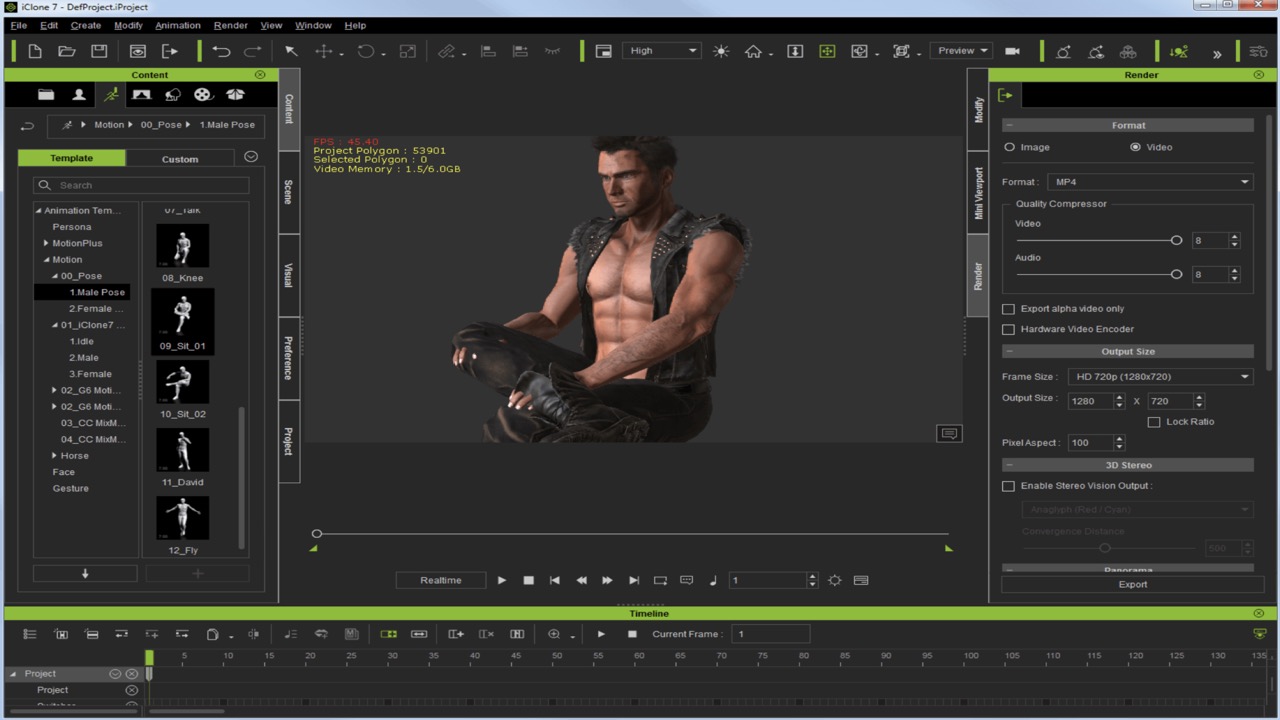 iClone's highlighted feature
There are a lot of features that you can find in Reallusion's iClone. Below are just some of the highlighted features that this real-time 3D animation software has.
Intuitive Character & Motion Workflow
iClone allows you to create your own custom character design with free customization, such as body morphing and fashion layering design. The 3D models are fully rigged, which makes mocap, lip-sync, and facial animation easier.
Essential animation features
With the PhysX simulation tool, you can create a wide variety of simulation-based animation, such as rigid body physics, cloth simulation, organic morph, collision, etc. Everything can be accessed with intuitive selectors and UI.
Real-time directing
With iClone, you can move your lighting and camera wherever you want. On top of that, you can utilize the multi-camera system, cinematic timeline editing, scene setup, etc.
Real-time visual
With iClone, you can now say goodbye to long render time. Utilizing artistic real-time 3D visuals, including PBR, IBL, and Global animation, you can improve your production effectiveness. So, perform the iClone download for Windows now!
Game engines compatibility
Want to import your work to a game engine? With iClone, every asset and scene can be imported and exported easily to any game engine.
Plugins and expansion
With many plugins and expansions already planned, you don't have to worry about missing any features and updates.
Community assets
Gain access to a huge library of rigged and ready-to-animate 3D character assets, motion sets, and props from content partners and featured access.
iClone aims at increasing animators' production effectiveness by delivering a real-time 3D animation tool that is easy to use and fast. If you're a beginner 3D animator, iClone is an excellent animation software to use. With its intuitive UI and ready-to-access asset library, you can learn 3D animation in no time. So, check out the iClone free download link available.|