WPS Office Free (2022 Latest) Download for Windows 10/8/7/XP | WPS Office Free, a Recommended Office Program Compatible with Microsoft Office, WPS Office Free is one of the most popular office programs in the world and it is compatible with Microsoft Office. Some items available in the program are Writer, Presentation, and Spreadsheets. You can open and edit many types of documents as well as do further actions with email, online tools, and in-app support.
The mobile version of WPS Office Free is also now available for Android and iOS. With the app, you can open and edit documents you have made on PC on your Smartphone. Generally, this office program has some highlights and features.
WPS Cloud
WPS Cloud is a cloud storage feature originally from WPS Office Free with 1 GB free space. Unfortunately, this feature currently is still only available on PC and iOS. For Android, it is still in a process to launch. The feature is very easy to use in which sharing documents is possible only with a click, Microsoft Office 2013 for Windows
Free Templates
Your documents may need to look stylish and not plain. This way, the program also provides a Free Templates feature. Those free templates are used to create files including word documents, spreadsheets, and presentations. They are all unique and beautiful.
Drag-and-Drop Tool
One of the newest and the most innovative features is the Drag-and-Drop tool. With this feature, adjusting paragraph is easier. You can change some paragraph components including spacing and indentation by directly your mouse to some items available.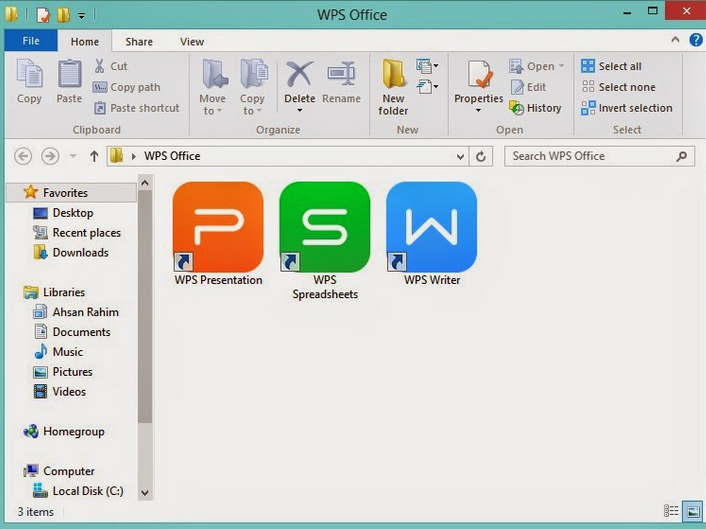 Multiple Document Tabs
Opening many documents at once may cause problems and confusion. To avoid this problem being experienced by the WPS Office Free users, it provides the Multiple Document Tabs feature. The tab appears on the document area automatically by tapping Ctrl+Tab.
Section Navigation
Section Navigation comes with some tools. They are Cover Pages, Content Pages, Your Header and Footer, Split Sections, and Delete Sections. All of them are very easy to access. With Section Navigation, editing documents will not waste too much time.
Multiple Fonts
To make your editing activities more fun, WPS Office Free doesn't only provide you multiple templates. It also has more than 230 fonts. You can use it along with some tools like track changes, comments, and spell-check. Additionally, it also supports functions like document encryption and reading or writing permission.
Video : WPS Free Office
WPS Office Free is a good choice if you are looking for an office program aside from Microsoft Office. It makes your work simpler with better results. Moreover, you can now use it via mobile phones whether it is Android or iOS.