vidIQ is an online education site that offers video tutorials and analytics on the growth of a YouTube channel, and it's available for both vidIQ for Windows and Android. It is one of the best tools for growing a YouTube channel in a short time. The site also has a Google Chrome extension, which allows users to analyze YouTube analytics data. vidIQ is often compared to the Google Chrome extension TubeBuddy, which has similar features to vidIQ.
About vidIQ
vidIQ for windows helps content creators come up with ideas and optimize videos for maximum exposure and views. By using insights and metrics that go beyond YouTube Analytics, vidIQ Vision delivers comprehensive optimization report cards for each YouTube video through your browser to give insight into how to get more views and subscribers.
What can vidIQ Do?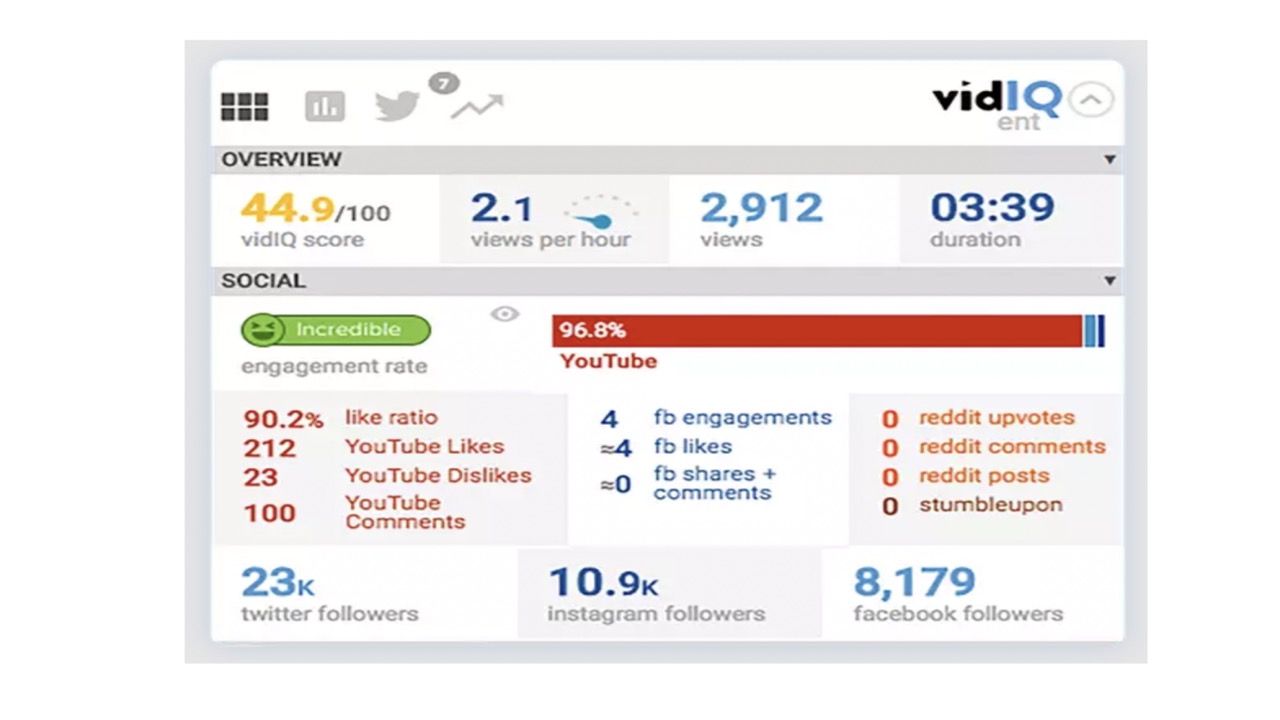 vidIQ can maximize your video's organic reach. It also can improve what works for your channel.
vidIQ users will have the ability to beat their competitors. They will also get important YouTube stats.
vidIQ can generate ideas for your next video with AI and will help you look to the future with View Prediction.
vidIQ can determine the best keywords for your content, as well as improve keyword research on YouTube.
vidIQ comes with a YouTube search keyword tool and it can keep an eye on competitors.
vidIQ allows you to sort by date, hourly view, and even notify trend alerts.
vidIQ provides a thumbnail generator overview. Users can also create and edit custom thumbnails
Users can audit their own YouTube channel 24/7, comes with real-time YouTube stats overview, as well as limitations in the demo/free version.
How to Use vidIQ for Windows for Free?
vidIQ download for Windows is available on the internet. You can get vidIQ free download by heading to the official page of vidIQ, or you can take a look at the following steps:
Install vidIQ for Windows or vidIQ Vision Chrome extension and create a free account with vidIQ to access the free basic version.
Allow complete permissions for vidIQ to access and modify your YouTube channel account, which allows you to access all vidIQ Pro or Enhancement Features on YouTube, incorporate shortcuts when searching for YouTube videos, or help tag tools when editing your videos.
Click the vidIQ extension on your Chrome extensions toolbar and click the Boost link next to SEO. Mark the vidIQ shortcut, which can take you to the vidIQ website where you have the option of purchasing vidiQ Pro, Boost, Boost+, or Enterprise as well as selecting what channel number you want to have the paid version of vidIQ on. Choose one in all paid version options and click start with Pro/Boost and choose to add promo code.
Type 'OSI' to push your first 30 days/first month free from vidIQ Pro or vidIQ boost, then fill in your personal and payment details with your MasterCard.
Once you have completed the payment process, you will access the vidIQ Pro or vidIQ Boost total tools to help grow your YouTube channel faster and get more views and subscribers using the YouTube SEO facility, and beat the YouTube algorithm. The tools you just get with the paid version of vidIQ include the vidIQ keyword engine, competitor tracking.