AOMEI Backupper Standard (2021 Latest) Download for PC Windows 10/8/7/XP/Vista | You must already know that having a backup of your data is necessarily important in order to prevent data loss as well as system failure. There are already so many brands of backup software that can help you to backup your important data, one of them is AOMEI Backupper Standard.
This software provides basic and sophisticated features. With this, you can make sure the safety of your data and system. Besides free, AOMEI Backupper Standard is also easy to use. Here is more information about the useful software.
About AOMEI Backupper Standard
AOMEI Backupper Standard is a backup software designed for Windows operating systems, including Windows XP, Windows Vista, Windows 7, Windows 8, and Windows 8.1. This useful software supports partition, system, folders, files, and hard disk backup, restore, and clone.
It also provides incremental, schedule, differential backups, GPT disk backup, dynamic disk volumes backup, and many more. You can even create Windows PE and Linux bootable CDs with this software. There are still many other tasks that can be done by this software.
For example, backing up to NAS and network, backing up or restoring files from a network to another, manually adding additional drivers when creating Windows PE Bootable CD, backup logs management, and many more.
Screenshots and Features of AOMEI Backupper Standard
Perform AOMEI Backupper Standard, choose Backup -> Disk Backup on the main window.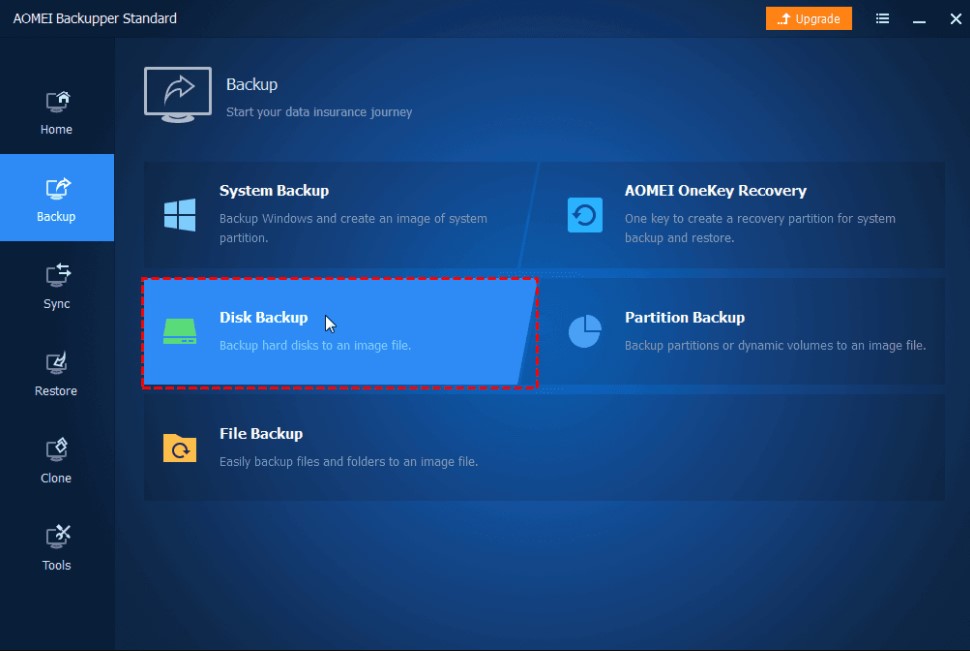 Tap +Add Disk, select the Windows 10 disk that you would like to backup, click Add.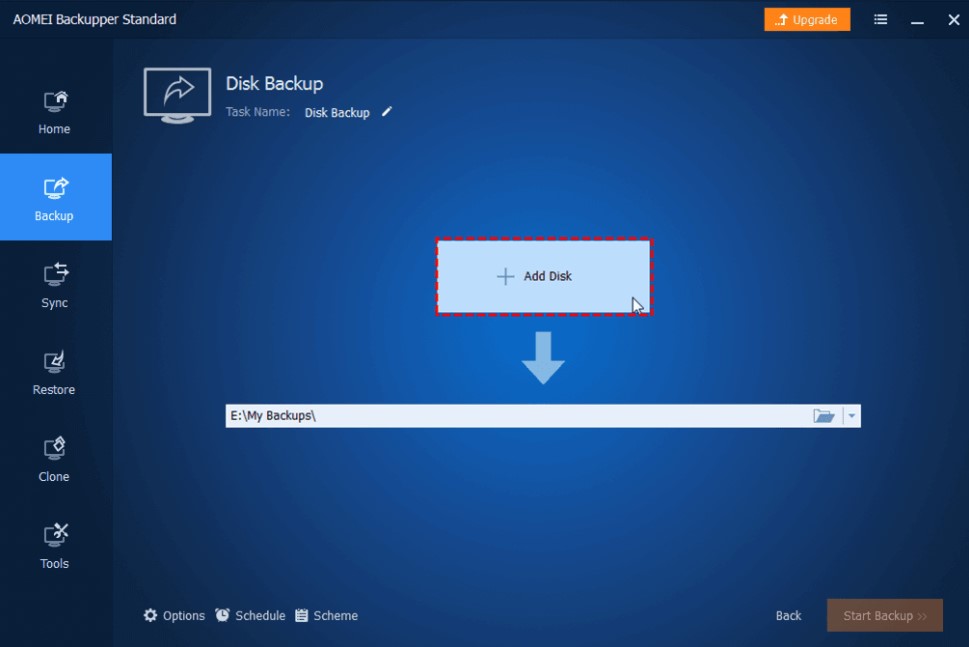 Tip: You could rename the Task Name to distinguish from other backups if required.
The unique function of AOMEI Backupper Standard is VSS. VSS is the technology from Microsoft. With this technology, your data backup process or system will not get interrupted by running applications. AOMEI Backupper Standard is free and suitable for both home users and commercial users.
Features of AOMEI Backupper Standard
With just one click, you will be able to backup all of your important data, including Windows operating systems, installed applications, and also custom settings. You can backup your data without your work being interrupted.
AOMEI Backupper Standard can also help you to backup individual folders and files safely. Such as photos, documents, videos, e-mails, programs, and games. This software also supports file or folder backups from one network to another.
With AOMEI Backupper Standard, you will be able to automatically synchronize folders and files with a schedule to external hard drives, local disks, NAS, removable USB flash drives, or network shared folders.
Easiest Backup and Clone Software: AOMEI Backupper
That is about AOMEI Backupper Standard. Besides backing up your data, this software can also help you to backup your hard disk drives and certain partitions or dynamic volumes.