The Bat! Professional Latest Version for Windows 10/8/7/Vista | Download 2022 latest version The Bat! Professional for windows Have you ever heard about The Bat! Professional Edition? It is an e-mail application that comes with full features. It is specifically designed to fulfill the evolving requirements of corporate users. This tool is useful for handling an increasing volume of messages.
This tool supports various POP3 accounts, multithreading, MIME and UUencode standards, multimedia, APOP authorization, and PGP. Besides an email application, The Bat! Professional Edition is also a message editor, mai dispatcher, and also multilingual spelling checker.
With the tool, you will be able to manage messages on servers as well as checking errors of spells. You can check errors in English, Italian, Russian, Swedish, German, Dutch, Polish, Romanian, and Lithuanian.
Easy Installation and Easy to Handle
You will not find any problems with the setup process. Such as browser settings changes or offerings from third-party products. The setup process can be completed in minutes. When it is completed, you will find a clear interface that encloses a menu bar, several buttons, and panels.
The panels show all folders created, including messages and actual content of selected emails. This tool is paired with comprehensive Help contents. So, it is suitable for all kinds of users, including the ones without any experience with computers.
Protect Information on Several Accounts
Compared with the Home Edition, the professional version offers additional features related to security. For example, security token support, on-the-fly encryption, and also biometric authentication. The Bat! Professional Edition uses the OpenPGP Protocol for message encryption. This way, your correspondence will be protected.
The tool also supports POP3, IMAP and MAPI protocols. It is also useful in managing several email accounts. The Bat! Professional Edition takes advantage from Windows multitasking abilities to process incoming and outgoing messages in the background.
The tool performs such a task without overloading your PCs. You will be provided with a number of useful features that can help you to efficiently manage emails. The features include duplicate detection, message reminders, sending confirmations, color grouping, and many more.
Supports for A QR Codes Generator, EMail Signatures, and Spell Checker
The Bat! Professional features a message editor that includes an HTML viewer and multilingual spell checker. Customizable templates are provided for mass mailing or routine e-mail sending. With the tool, e-mailing will be so much easier.
Here are some screenshots and Features of The Bat! Professional
Manage your Mail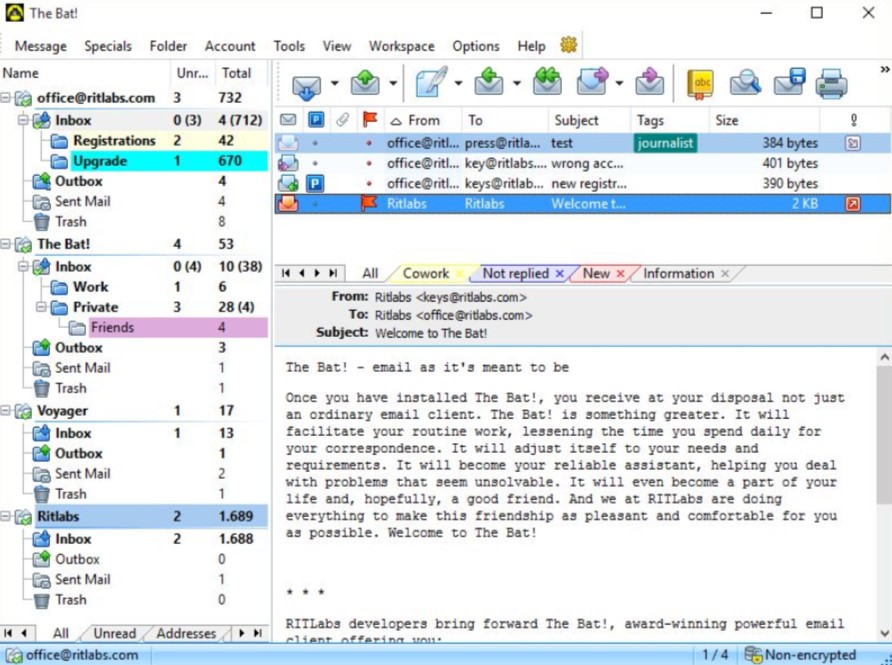 Message Editor Window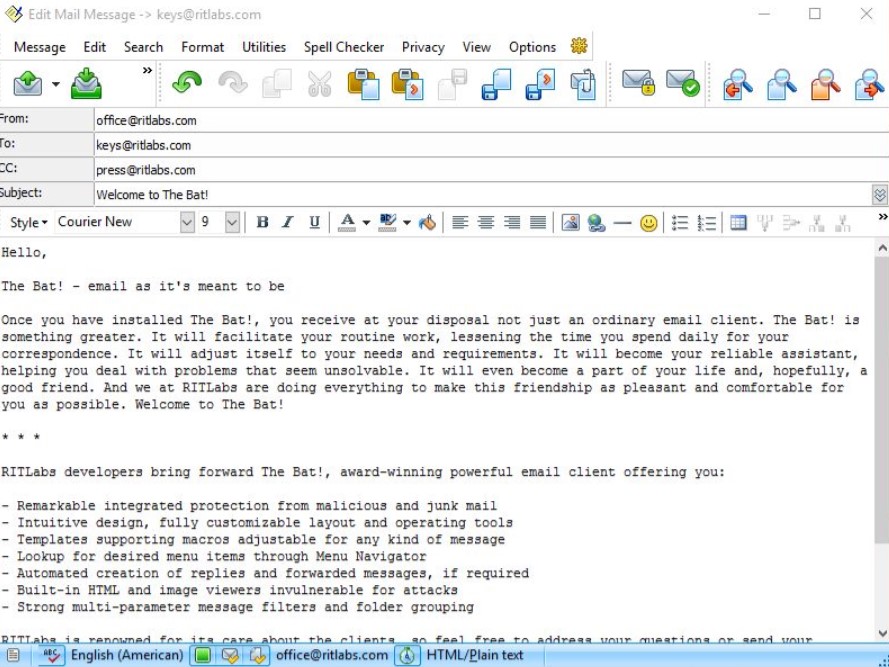 Sorting Office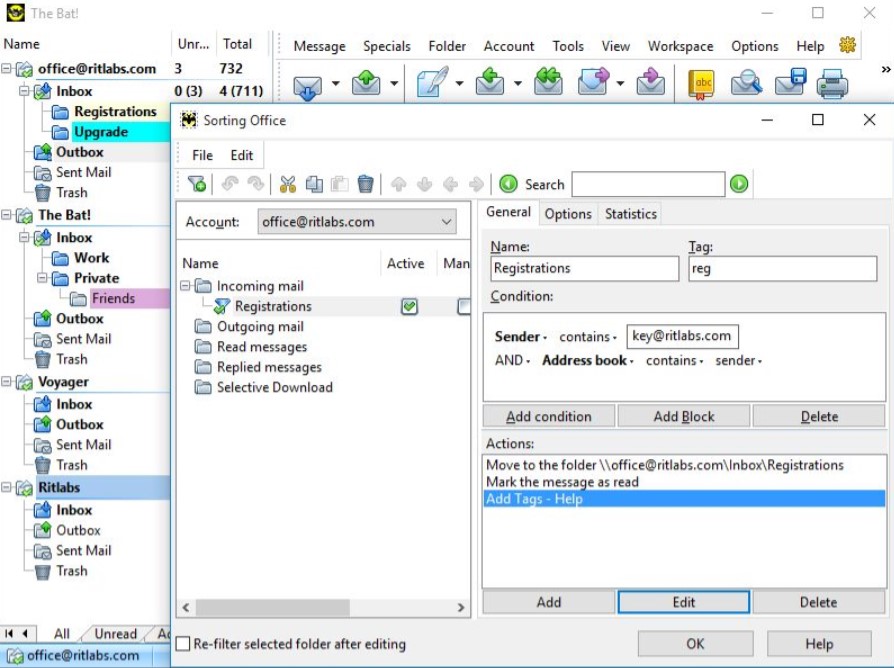 Address Book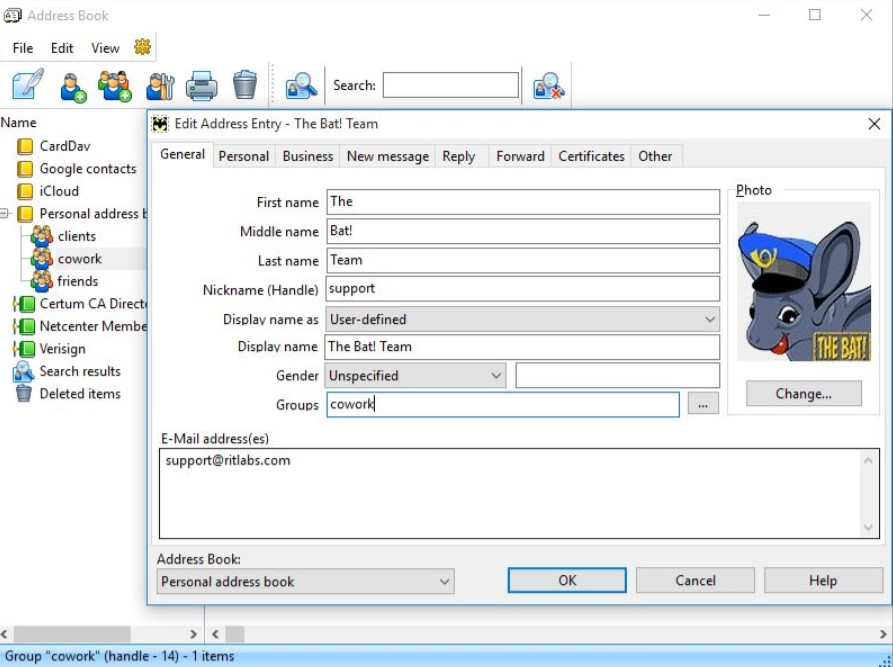 You will be able to read emails in a preview mode with the multilingual interface. The layout is completely customizable. So, you can edit or modify it as you wish.
What's New The Bat! Latest Version
The Bat! v9.3
New features
Improvements
Smoother loading of HTML messages
Message preview: redesigned search panel inside the preview pane
Re-filter window can now be resized and sent to background
HTML editor stores the selected theme style only if the editor's option "Include current profile's layout into HTML messages" is on
Fixes
Toolbar/menu settings were not stored/restored completely
Error when the user tried to create a new address book
Large and zero-length body HTML messages could be rendered using previously viewed HTML contents
Lots of cosmetic fixes for setting defaults and first-time run
Default icon for utility windows was not set to the app's main icon
Message import from Mozilla Thunderbird was not working
Fixes for color and font saving in HTML messages
Changes to Color Groups made in a dark theme were not saved
Preview pane changes color properly when interface theme is changed
Information panel didn't change color when theme was changed (when the actual info panel was closed)
Other Links Download The Bat! Professional for Windows
The Bat! v10.0.10 (64-bit) Size:148.96 MB
The Bat! Professional Supported operating systems :
Windows Vista
Windows 7
Windows 8
Windows 10