The FortiClient for Mac offers you comprehensive protection features you need to start from detecting the malware and virus, VPN, parental web control, and rootkit removal. Fortinet's FortiGuard labs create the latest threat intelligence and definitions that detect the malware.
For those parents who worry about their children's safety, parental control is effective and simple to use for blocking malicious and harmful websites. On the other side, VPN configuration enables you to secure and fast remote access via SSL Protocols or from IPSec.
FortiClient for Mac
Forticlient's Antivirus is an advanced technology that developed as FortiClient for MacOS apps. The apps have a powerful ability to detect any threats from both a proactive and reactive basis. The proactive detection regulated zero-day malware that had never been seen before.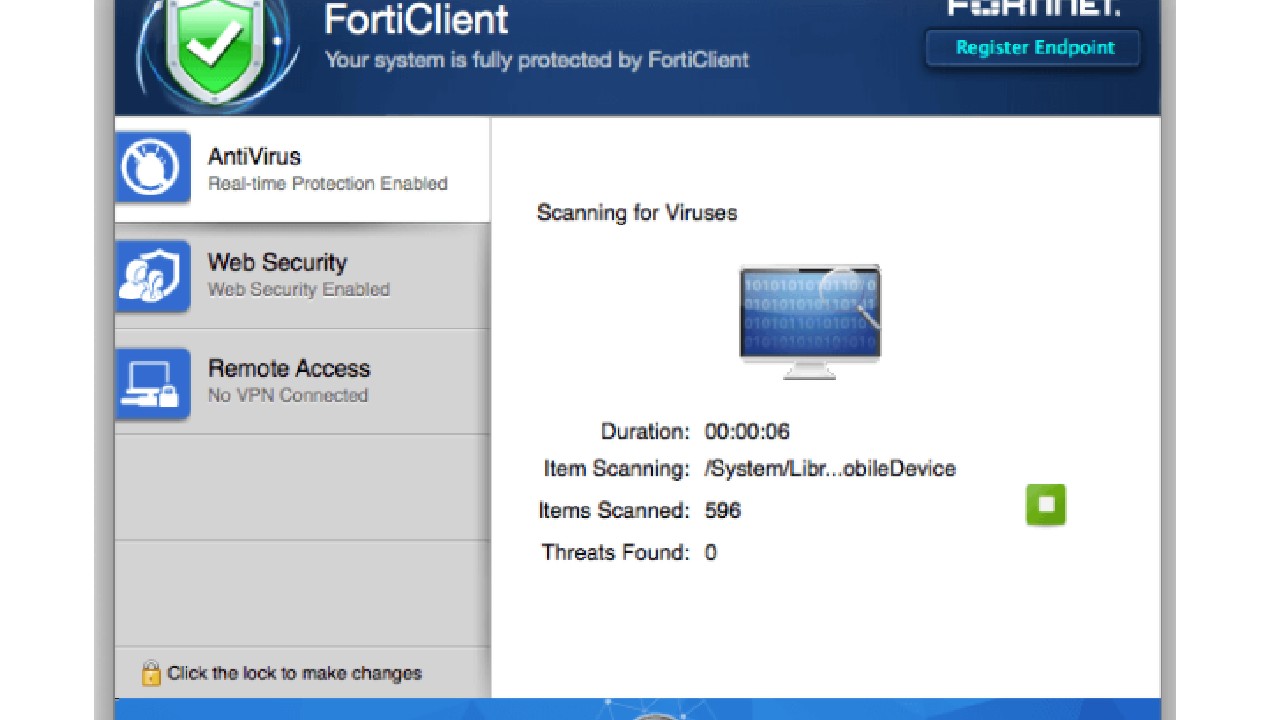 FortfiClient is a high-class tool designed for the biggest company environment including Fortune 1000 companies, agencies enterprise both of state and federal, and personal customers who need full modular protection which is able to handle the Antivirus capacity power.
To give more peace of mind to their client, FortiClient is integrated with Forti Gate, Forty Analyzer, and Forty Manager comprehensively. These integration configurations allow their use for easy and secure management, deployment, and centralized method of reporting and logging.
FortiClient Free Download is available with whole features. It comes with web filtering, anti-virus technology, SSL-VPN, ON-Net detection for Auto VPN, IPSec VPN, 2 Factor Authentication, WAN optimization, Vulnerability scan, and rebranding. 2 Factor Authentication allow double protection for your files.
Application firewall features use AI-Driven and machine learning that functioned to identify the anomalies in the application request. This feature also finds any threats in incoming traffic. The feature allows you to protect web apps from the entire vulnerabilities, app attacks, and zero-day threats.
The VPN Forticlient provides secure networks and cloud strategies with IPSec and SSL VPN FortiGate solutions. It is scalable and delivers the high performance of maintaining security policies and access control to the comprehensive applications, users, and devices regardless of the location.
The IPSec and SSL advanced technologies ensure protection of your data while it is in high-speed motion. It helps users and organizations against threats or data breaches. Forticlient web filters provide organizations and users comprehensive protection to threats including phishing, ransomware, web-borne attacks, and credential theft.
Fortinet's web filtering is driven with AI and achieved with VB Awards for years from Virus Bulletin for the affectivity of security. These comprehensive features are designed for delivering you the best experience with FortiClient Download.|