Chatting and video call are two of the smartphones' most used features. Therefore, you can easily find a lot of video call apps on Google Play Store, one of them is Imo Messenger for Android. With this app, you can chat and video call your friends or family for free. It got 4 out of 5 stars and more than 7 million Android users have downloaded this app.
About Imo Messenger
Imo Messenger APK is a free app for instant messaging, voice messaging, as well as video calling. The developer claims that you can still get connected to your beloved ones though your signal is under a bad network. The highlighted feature of this app is group video and audio chats. Imo Messenger supports real-time group video chats for up to 20 members. This way, you can comfortably and easily hold an online meeting with your colleagues.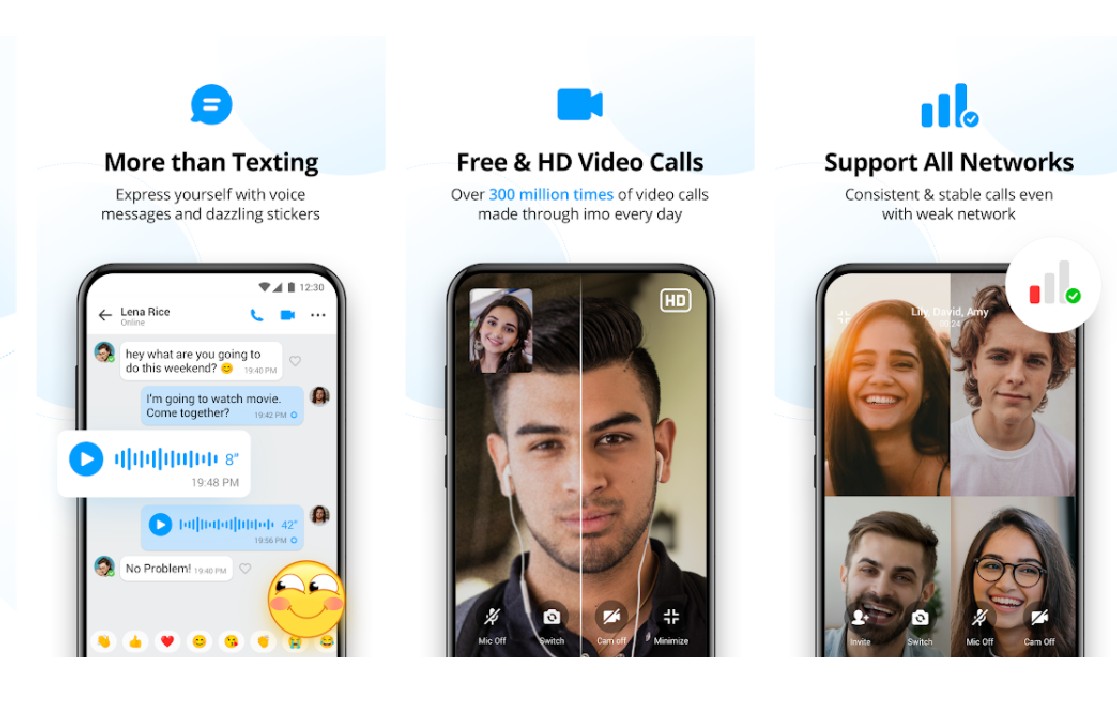 It also allows you to send large size documents and videos. Moreover, compared to other similar apps, Imo Messenger consumes less data. But it can still deliver clear images and sounds when you are video calling someone. This app also provides funny, interesting stickers to liven up your chats. Overall, it is a great app for staying in touch with your loved ones via chatting and video calling. You can download it for free on Google Play Store.
Why You Should Choose Imo Messenger
Compatible with All Networks
Imo Messenger APK Android supports all networks, which are 2G, 3G, 4G, and Wi-Fi. It can still deliver stable, consistent audio calls even when you are on a 2G network. With this app, you can avoid phone call and SMS charges.
Another benefit of Imo Messenger for Android is you can make international calls for free. You can enjoy HD quality, crystal clear video calls to your beloved ones across the globe.
You can customize your profile to express your personality by choosing one from hundreds of attractive avatars, backgrounds, and music themes. So that your profile looks unique and different from others.
Using Imo Messenger can free up your phone storage since all your files and messages history are securely synchronized in imo Cloud. This way, you will never miss any messages even if you close the app.
As it is said before, Imo Messenger uses less data usage, allowing you to save more money and enhance data traffic usage efficiency.|