If you are a windows user and are looking for video converter, and also music downloader, then you can put AnyMusic to consideration. In fact AnyMusic for Windows is the best video converter as well as music downloader and music player that you can ask for.
This software will give you the best combination of those three tools. This software will allow you computer to play music, conduct mp3 music, and fortunately it allows you to download music for free. This software is also very easy to use, so grab your chance and download this software now!
Features and Highlights
This software is popular and well known because it offers many awesome features and highlights. Below are several features and highlights of AnyMusic for Windows that you should know.
Search music for free
You have to know that this software is a free app that can be used as a music search engine. If you want to find the music that you are dying to listen to you can just simply type the title of the music on the search box. Then, you will find all of the music that closely relates to the word that you have been typing before.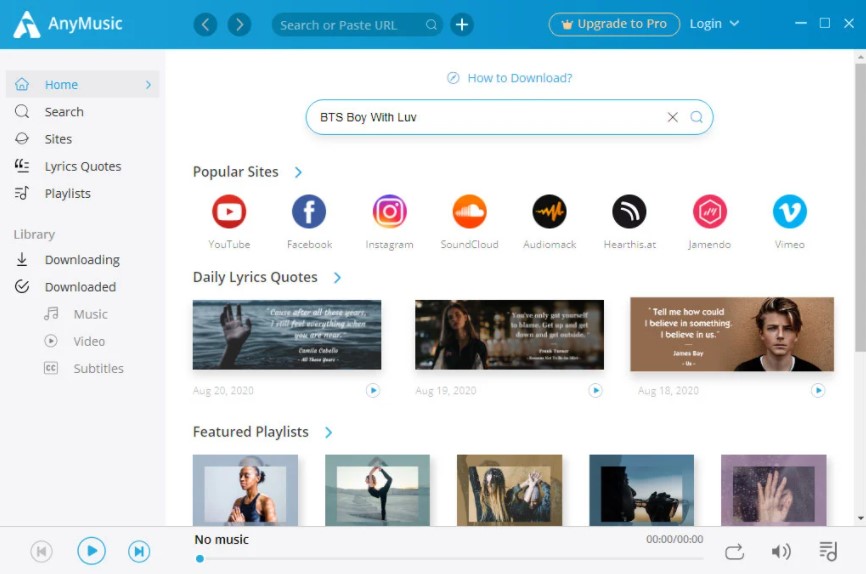 Download music
When you already found the music that you really want to listen to, you can choose to save it to your computer or not. If you want to save it, then you can download it to your computer. There are a lot of format selections that you can save it under, so you need to choose the one that will suit your needs best.
Find music worldwide
In addition, this app also shows the worldwide top trending music. As a result, it will allow you to find new music from international singers that you may never know of before. This will allow you to discover more and more music. It can help you to broaden your knowledge about music too.
Take audio from videos
Interestingly, this app allows you to convert your video into audio by extracting the sound from it. There are also plenty of audio formats that you can choose to save it under too.
Manage music library
You can organize your music library using this app too. You can simply gather all of your music in one particular folder. You can also choose the location where you will put the folder of your music library. You can also rename those music files to ones that you really love.
What's New:
More sites available for music download
Improve music search experience
320kbps mp3 download supported